At the beginning of 2022 we embarked on a mission looking for an additional space where six women from the Raramuri community could train and join our project. We decided to join forces with a social space called El Ranchito. 
Located in the outskirts of Ciudad Juarez, El Ranchito was founded 25 years ago to support people with disabilities. The founders, Lucy Gomez and Sandra García, both social workers, have worked with Ni En More from the beginning. They have not only acted as board members but have also helped us raise funds and provide psychological support.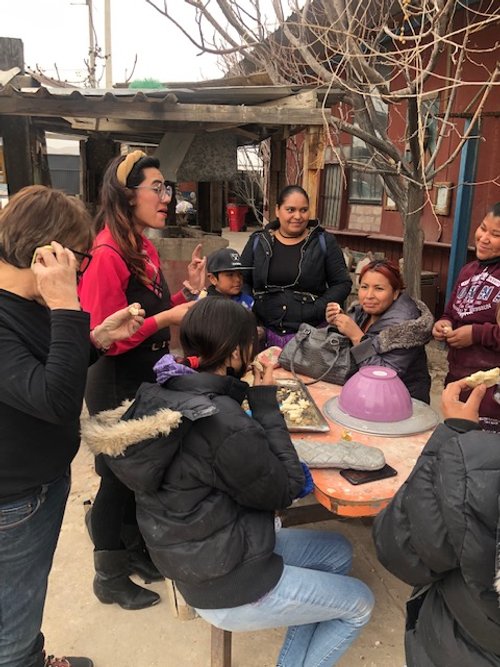 Now we are actively looking for donations to continue the project in 2023. The funds will be used to compensate six women so they can continue their training in sewing and textile dyeing. Our goal is to help them start their own projects and become entrepreneurs. Part of the money will also be used for materials and training costs.
It is crucial to keep this project going, as we over the last seven months have seen a big impact on the quality of life of the participating women and their community.
Most of them have only gone to elementary school making it difficult for them to enter the job market. Furthermore, the majority of possible employers in Ciudad Juarez lack the understanding that the women's traditional dresses are part of their identities and beliefs and can not be traded for uniforms. This means we are their only safe option to generate income. 
These women are also the family main caretakers. Since El Ranchito is closer to their community they spend less time on public transportation with a training schedule of just six hours per day. This means more time spent at home with their families. 
Additionally, financial independence is key to ending a vicious cycle of domestic violence. Recently we witnessed this as we were able to help one of the women through the process of leaving a violent relationship.
The women have been very enthusiastic, and slowly they have begun dreaming of a better life.
We want to emphasize that the Raramuri community outside of Ciudad Juárez has faced big challenges over the years. They were forced to migrate from the rural regions in Sierra Tarahumara to the cities and had to settle on small parcels of land without access to running water, medical services, or any public services at all. 
The isolation, the discrimination, the lack of job opportunities and education have taken a toll on the mental health of the community, hurling it into a spiral of violence whose hardest hit victims are the women and children.